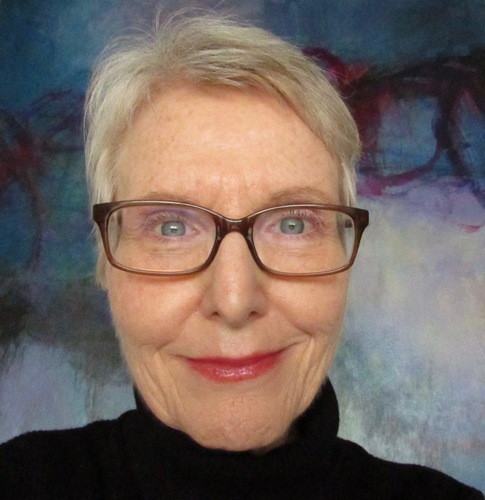 Jane began her work in visual arts as a fiber artist, both in weaving and batik, in NYC. She studied at The Penland School of Crafts in Spruce Pine, NC, and at the Fashion Institute in New York. She was a professional theatrical costume seamstress. "While I have always been in love with color, the energy and rhythm that painting conveys continued to intrigue me. When I turned to painting later in life, I found I could translate the texture of fiber and the layering of colors from my dye work to this medium. I love experimenting and inventing with different materials, but I truly love paint and all it can do." Of her process she says, "My one requirement has been that I remain open to the creative."
Jane came to Asheville more than 40 years ago. After being at Penland, where she studied weaving, she felt an immediate connection with the mountains and sought a lifestyle living in an art-minded community. She and her husband had a successful craft gallery for 20 years inside the Grove Park Inn. She was an editor and author of more than 30 craft books with Lark Books,
She is an award-winning artist whose paintings are in private collections and corporate settings. You can see the work of Jane Molinelli at 310 ART in the River Arts District.